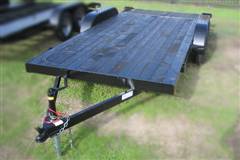 Click for Big Pic





Click for Big Pic Click for Big Pic





Click for Big Pic Click for Big Pic



Length

Price

16'

$2595.00

For longer trailers add
$150.00 per linear foot.
Prices Include DMV Fees
8' wide (76" usable deck space) Standard Car Haulers have the following features:
7,000 lb. GVWR
Wrap around tongue for added strength
E-Z Lube Axles
Electric Brakes on one axle
Dovetail
15" Custom Wheels
New 6 ply rated trailer specific tires
DOT approved light package
Raised wood deck to help open doors over the fenders (Approx 9" from deck to the top of the fender)
2 5/16" Ball hitch
2,000 lb. Tongue jack
Ramps and Ramp storage
Colors available at no charge (subject to colors on hand).
76" between the fenders of usable space.
Many Options Are Available, See Our "Trailer Options" Page For Prices.
Like:
Safety pipe stop across the front
No Dovetail - Flat Deck - No Charge
Diamaon Plate Steel deck
Recessed "D" Ring Tie Downs
2 5/16" coupler
4" Drop Axles
(Revised 04/26/18)