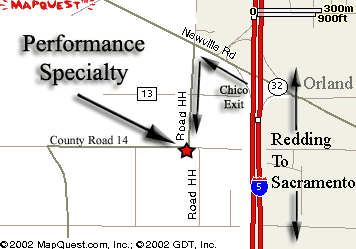 Performance Specialty Trailer Sales
6393 County Road 14
Orland, CA 95963-9462

Phone (530) 865-8277
Fax (530) 865-3298

Email:nduty@performancespecialty.com
Conveniently located off I-5
in Orland California. Take the Highway 32 exit
off I-5 and head west (away from downtown). Then take
the first left turn (county road HH) and drive to
the end of the street (south bound).