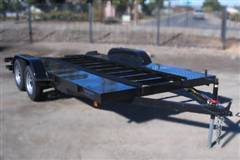 Click for Big Pic





Click for Big Pic Click for Big Pic





Click for Big Pic Click for Big Pic




Click for Big Pic
Length

Price

16'

$2695.00

For longer trailers add
$150.00 per linear foot.
8' wide (76" between the fenders) California Car Haulers have the following features:
All steel construction, no wood.
Open Center for reduced weight
7,000 lb. GVWR
Wrap around tongue for added strength
Electric Brakes on one axle
15" Custom Wheels
New 6 ply rated trailer specific tires
DOT approved light package
24" wide steel runners
2 5/16" Ball hitch
2,000 lb. Tongue jack
Ramps and Ramp storage
Colors available at no charge (subject to colors on hand).
76" between the fenders.
Many options are available, see our options pages (prices too).
Winch Mount -4" Dropped Axles
Hidden Ramps (Rear Access with doors to hide the ramps, same as on the Deluxe Car Hauler)
6' Long Ramps (4' Long Ramps Standard)
Storage Box
Tear Drop Fenders
Spare Tire
Spare Tire Mount
Chorme Wheels
Aluminum Wheels
Revised 04/24/18)